Firearms, Tool Marks, and Ballistics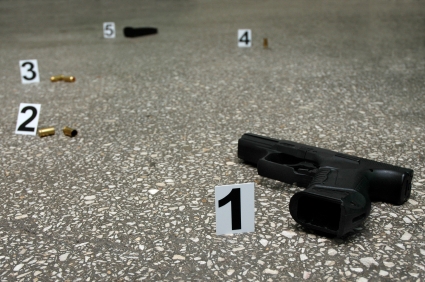 National Academy of Sciences Report - See pp. 150-155 for the National Research Counsel's assessment of the discipline of Toolmark and Firearms Identification.
Ballistic Imaging - The National Academies Press, 2008. Provides information about the range of acceptable conclusions in this field, as well as the lack of error rate and subjectivity of the comparison techniques.
May 6, 2013 DOJ Letter - this letter from the DOJ regarding the results of a US DOJ and FBI review of lab reports and testimony of FBI lab examiners in the Willie Manning case finds that testimony stating that a specific gun fired a specific bullet "to the exclusion of all other guns in the world" is not scientifically supported.
Scientific Working Group For Firearms and Toolmarks (SWGGUN) - The purpose of SWGGUN is to develop a series of consensus guidelines for the firearm and toolmark discipline and to disseminate SWGGUN guidelines, studies, and other findings that may be of benefit to the forensic community. The SWG meets twice annually. See the Admissibility Resource Kit for links to opinions, transcripts, motions, briefs and articles supporting and opposing the practice of firearm identifications.
Association of Firearm and Tool Mark Examiners - is an international organization dedicated to the advancement of Firearm and Toolmark Identification.
Training Materials
NIJ Firearm Examiner Training - The National Institute of Justice has an online training that includes topics such as Bullet Comparison and Identification, Gunshot Residue and Distance Determination, and Toolmark Identification. The training provides both a general understanding of firearms/firearms evidence and gives a detailed explanation of techniques used by firearm examiners.
Firearms and Toolmarks Overview - this document created by the Georgia Bureau of Investigation provides a clear description of the analyses performed by firearms and toolmark examiners. It is presented from the perspective of a crime lab, so it does not question the reliability of any of the techniques presented, but it is a helpful document for attorneys because it explains the procedures used and illustrates them with photographs.
Articles
Recent news articles - this page contains links to recent press coverage of local and national cases involving firearm and ballistics evidence and is updated regularly.
This July 7, 2016 NIST post on a 3D Ballistics Database discusses new techniques used in firearm-toolmark comparisons.
Ballistics Evidence Under Fire - this article by Paul Gianelli was published in the Winter 2011 edition of the American Bar Association's journal, Criminal Justice. It addresses how courts in Daubert jurisdictions have handled challenges to firearm/projectile comparison evidence.
Hypothesis Testing of the Critical Underlying Premise of Discernible Uniqueness in Firearms-Toolmarks Forensic Practice - this article by William A. Tobin and Peter J. Blau argues that existing studies that are typically presented in court as support for firearm/projectile comparisons are fatally flawed and thus are of no value for validation of the techniques used. The authors offer a solution that would allow a scientifically defensible opinion to be proffered to courts until comprehensive and meaningful hypothesis testing can be conducted by the mainstream scientific community. Click on the button that says "Download This Paper" to download the entire article for free.
Analysis of experiments in forensic firearms/toolmarks practice offered as support for low rates of practice error and claims of inferential certainty - this article by Clifford Spiegelman and William A. Tobin evaluates experiments used to justify conclusions of "individualization" or specific source attribution to "100% certainty" and "near-zero" rates of error claimed by firearm toolmark examiners in court testimonies and suggests approaches for establishing statistical foundations for this firearm and toolmark comparisons.
Automatic comparison and evaluation of impressions left by a firearm on fired cartridge cases - 2014 article by F. Riva and C. Champod in the Journal of Forensic Sciences. Addresses new solutions to decrease the subjective component of firearm/spent cartridge case comparisons.
Challenging Firearms and Toolmark Identification - Part One by Adina Schwartz, in NACDL's Champion Magazine
Challenging Firearms and Toolmark Identification - Part Two by Adina Schwartz, in NACDL's Champion Magazine
Summary of the FBI Laboratory's Gunshot Residue Symposium, May 31-June 3, 2005 - this article summarizes the findings of a group of scientists and practitioners who met to address issues with gunshot residue analysis and attempt to create guidelines for this type of analysis. This document references several studies that have been published regarding contamination of subjects and proper collection, testing, and reporting procedures.
Forensic Science International published a research article by Michael Cook entitled, "Gunshot residue contamination of the hands of police offices following start-of-shift handling of their firearm" in Nov. 2016. The study found that 85 percent of officers had 3-component GSR particles on their hands immediately following the start-of-shift handling of their firearms.
FBI Lab Scraps Gunfire Residue by Julie Bykowicz, The Baltimore Sun. 2006 article which discusses a 2001 contamination study and the FBI's decision to no longer analyze gunshot residue in its investigations.
The Controversy Concerning Gunshot Residues Examinations by Dennis L. McGuire, M.S., Forensic Magazine - discusses the lack of a uniform standard for GSR analyses based upon validated studies. States that until those studies are completed, "positive determinations of GSR should be seriously scrutinized."
Knife and Saw Toolmark Analysis in Bone: A Manual Designed for the Examination of Criminal Mutilation and Dismemberment by Steven A. Symes, Ph.D. et al. for the U.S. Department of Justice. Available through the National Criminal Justice Reference Service (2010)
Opinions, Briefs, Motions, and Affidavits