Death Investigation and Forensic Pathology
Reports and Publications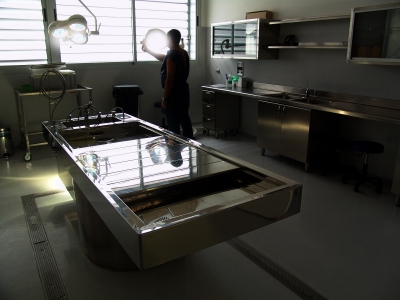 National Academy of Sciences Report - See pp. 241-268 for the National Research Council's assessment of the disciplines of forensic pathology and death investigation.
Death Investigation: A Guide for the Scene Investigator (2011) - U.S. Department of Justice, National Institute of Justice. A best-practices guide for death scene investigators produced by the National Medicolegal Review Panel, an independent multidisciplinary group of both international and national organizations whose constituents are responsible for investigating death.
The Handbook of Forensic Service (revised 2013) - U.S. Department of Justice, FBI Laboratory Division. Provides guidance and procedures for methods of collecting, preserving, packaging, and shipping evidence and describes the forensic examinations performed by the FBI's Laboratory Division and Operational Technology Division.
A Guide for Manner of Death Classification (2002) - National Association of Medical Examiners. Drafted to improve uniformity in manner of death determinations for death certificates. View additional position papers and accreditation information on the NAME website.
Scientific Working Group for Medicolegal Death Investigations - SWGMDI was created in March 2011 and is supported by the National institute of Justice (NIJ) through an Interagency Working Group with the FBI. Members are from local, state, or federal agencies, research institutions, or organizations which support medicolegal death investigations, and represent the medical examiner, coroner, medicolegal death investigator and forensic community at large.
Strategic Plan for Improving the Medical Examiner System - this 2001 report by the North Carolina Medical Examiner Study Group was requested by the legislature in part in response to a series of news articles that raised concerns about the quality of death investigation in North Carolina. The report provides information about the structure and responsiblities of the Medical Examiner system and makes a number of recommendations for improving the system including improved training, utilization of trained death investigators, and assuring adequate resources for the performance of death investigation and autopsies throughout the state.
Statutes
The North Carolina Office of the Chief Medical Examiner has compiled and posted the pertinent NC General Statutes and Administrative Codes related to death investigation.
Articles
Training
Medicolegal Death Investigation Trainings - Live and online training sessions compiled by the National Institute on Justice. Most are available for free.
Forensic Science Training - scroll to the bottom of this page to webinars on the topic of death investigation and forensic pathology.
The Scientific and Legal Implications of Virtual Autopsies - Catherine Bailey, research attorney for the National Clearinghouse for Science, Technology and the Law, discusses the scientific and legal implications of virtual autopsies in a three part video:
Experts
Visit the database of experts to find the contact information for experts in this field.
Additional Resources