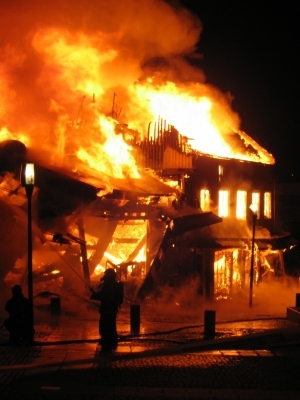 Fire and Explosion Investigation
National Academy of Sciences Report - See pp. 170-173 for the National Research Counsel's assessment of the analysis of explosives evidence and fire debris
Technical Working Group for Fire and Explosions - The mission of TWGFEX is to establish and maintain nationally-accepted programs for the forensic investigation of fire, arson, and explosion scenes and devices.
A Guide for Investigating Fire and Arson - this 2009 NIJ publication describes recommended practices for the collection and preservation of evidence at fire scenes. This guide may provide areas of cross examination in cases where the recommended policies were not followed.
Fire and Arson Scene Evidence: A Guide for Public Safety Personnel - 2000 NIJ publication written and approved by the Technical Working Group on Fire/Arson Scene Investigation. Includes recommendations about preserving the scene, interviewing witnesses, documentation, and evidence processing.
Publications
Articles
Additional Online Resources
Case Law
United States v. Hebshie, 754 F.Supp. 2d 89 (2010). This opinion by Judge Nancy Gertner is a must-read regarding standards of representation in arson cases. The opinion provides useful information on Daubert hearings, cause and origin testimony, burn patterns, canine evidence and laboratory analysis.
Conference of District Attorneys case law - this is the NC Conference of District Attorneys' compilation of arson case law. This list should not be considered comprehensive and the holdings have been summarized by the Conference of District Attorneys, but it gives an idea of what cases the State may cite.
Practice tips
If any of these findings were used to identify arson in your case, you should conduct further research and investigation: pour patterns, crazed glass, melted metal thresholds, burn marks under doorways, chipping of concrete, alligatoring or blistering of burned wood, or the point of origin being where the most damage occurred. The Discover Magazine article, Seven Myths About Arson, explains why these phenomena are frequently misinterpreted.
Records to collect: 911, police, firefighters, state fire marshal and dog, public water works, insurance agent, insurance investigator, claims adjuster, EMT, wrecker driver, landfill operator, store records from purchase of accelerant, etc.
Motions to file: Motion to Suppress (search warrant issue?), Motion to Preserve all Physical Evidence, Motion to Preserve to Preserve the Fire Scene.
Visit the database of experts to find the contact information for experts in this field.